The Omni Bead Ruptor 24 Elite
Lyse the toughest samples in seconds!
Demo unit now available!
The Bead Ruptor Elite is the most advanced and easy to use bead mill homogenizer available. It is specifically designed for grinding, lysing, and homogenizing biological samples prior to molecular extraction.
Wide range of accessories for any sample size - 24 x 0.5 mL, 24 x 1.5 mL, 24 x 2 mL, 12 x 7 mL, 3 x 15 mL, 6 x 30 mL, 3 x 50 mL, or 96-well strip well tubes.
Most powerful bead mill on the market – homogenize the most challenging samples
New touch screen interface
OptimateTM software
No cool down required between runs: process hundreds of samples per day
Convenient front loading design, 99 programmable memory settings, and multilingual user interface
Features an integrated lid lock to prevent lid opening during operation
Ideal homogenizer for extraction of DNA, RNA, proteins, and small molecules
Optimized tube motion ensures highest performance
The Bead Ruptor 24 Elite is designed with a unique carriage motion to ensure that the intra-tube bead movement reduces swirling and results in the highest bead impact forces of any bead mill on the market. The increased power of the Bead Ruptor 24 Elite decreases processing time and reduces sample heating to maximize sample homogenization efficiency.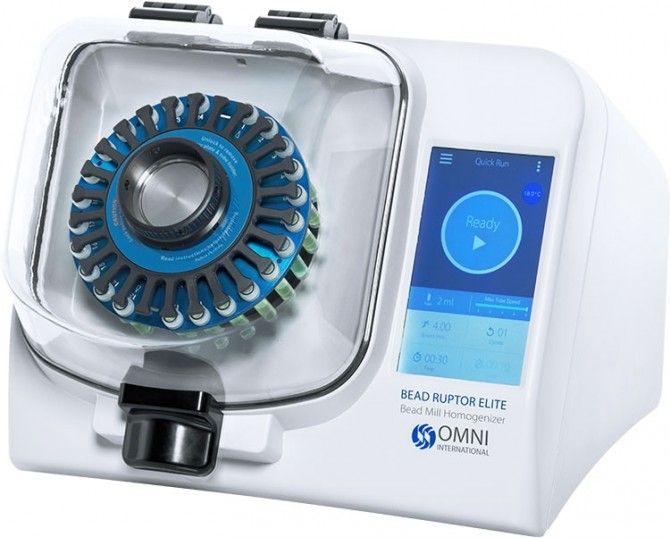 Click here for more information and specifications Omni Bead Ruptor 24 Elite