BUCHI - The first Freeze Dryer with Infinite-Control™
Freeze Drying in the laboratory
As the market leader in laboratory evaporation, BUCHI offers the first Laboratory Freeze Dryer with Infinite-Technology™ and Infinite-Control™. Applications range from research and development to quality control within a broad spectrum of market segments. Our BUCHI solutions stand out by their efficiency and practical capability.
Option 1: Lyovapor™ L-300
With Infinite-Technology™ the Lyovapor™ L-300 offers continuous sublimation for the first time with two alternately working and automatically hygienically cleansed condensers at -105 °C. In addition, Infinite-Control™ allows entire process control of all relevant parameters, also via mobile devices.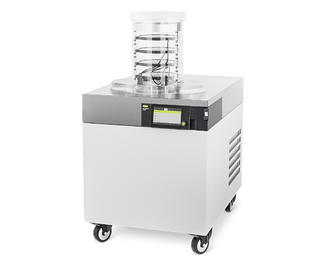 Option 2: Lyovapor™ L-200
The compact Lyovapor™ L-200 offers high-quality Freeze Drying (-55 °C, 6 kg) with a high level of automation. Infinite-Control™ includes easy method creation, method running, data logging, chart recording in real-time and interruption if needed from anywhere at anytime.

Lyovapor™ Software
The Lyovapor™ Software provides Infinite-Control™ for the Lyovapor™ L-200 and Lyovapor™ L-300. For the first time in Freeze Drying, Quick-Design offers a fast way of programming and starting methods. Furthermore, real-time process tracking and customizable reportings are included.
Click here to download the brochure: Buchi Freeze Drying